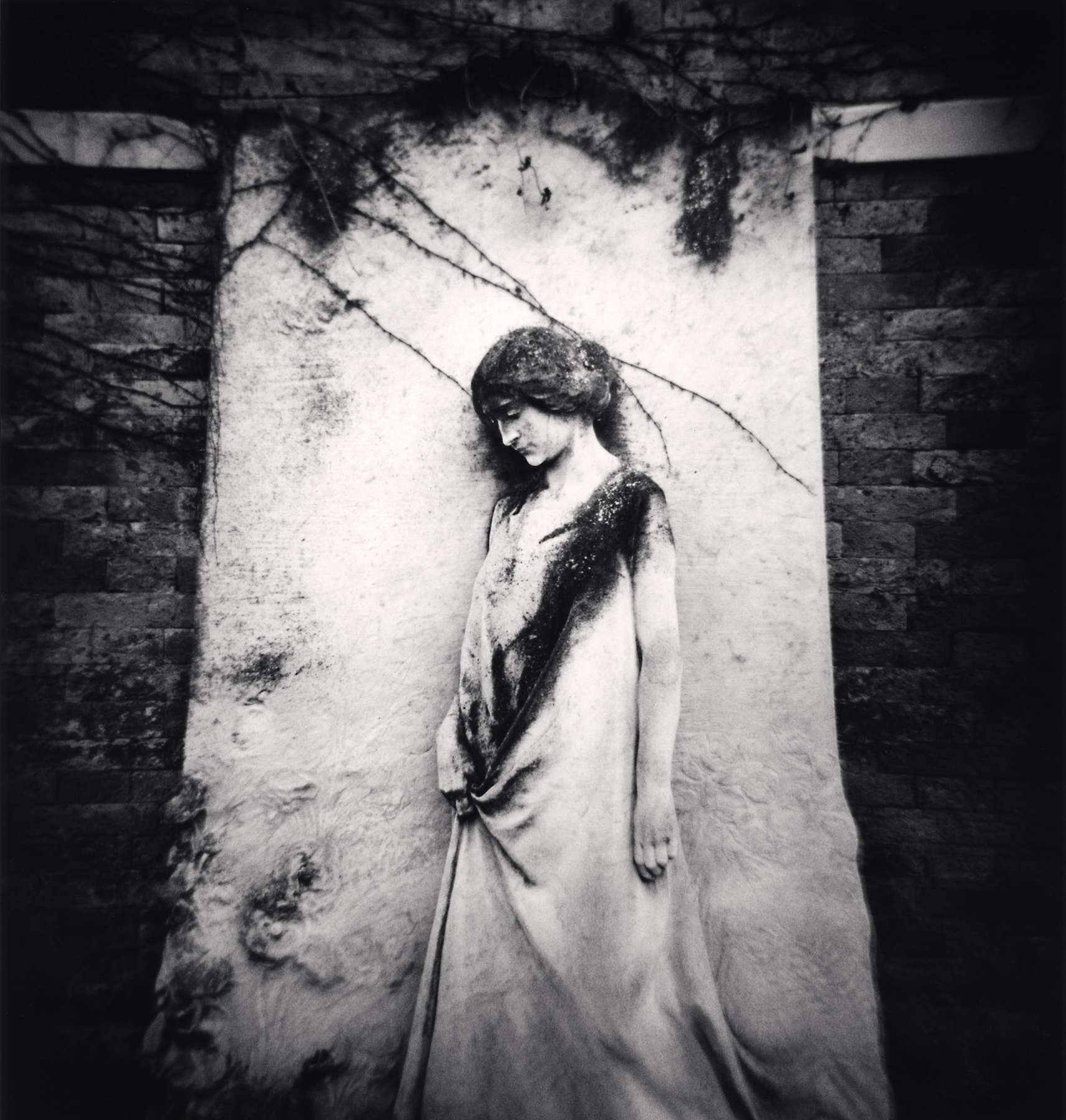 Michael Kenna
Gravestone Woman, Venice, Italy
,
2006
7 1/2 x 7 1/2 inch silver gelatin print
Edition of 45
Signed, dated and editioned recto; Signed, dated and editioned on artist stamp verso
Michael Kenna
Michael Kenna Biography British photographer Michael Kenna (1953-present) is best known for his black-and-white landscape photography in which he often utilizes drawn-out exposure times, some up to 10 hours in length. Most of Michael Kenna's photography is taken at dawn or at night, and he has commented that 'you can't always see what's otherwise noticeable during the day … with long exposures you can photograph what the human eye is incapable of seeing.' He cites fellow British photographer Bill Brandt as a primary influence; in fact, after Brandt died in 1983, Michael Kenna paid tribute by visiting and photographing a number of places featured in Brandt's own work. Michael Kenna has also stated that he is greatly inspired by the landscapes of Japan, and he has photographed almost the entire country-the results of which were published in a book named after the nation. In a similar vein of influence, Michael Kenna has stated that he thinks of his work as 'more like haiku rather than prose.' Michael Kenna grew up with five siblings in a working-class family in Widnes, England. Despite his creative nature, his Irish-Catholic roots drew him towards the priesthood and he entered a seminary school at the age of 10. However, seven years later Michael Kenna changed the trajectory of his career and left the seminary to study painting and photography at The Banbury School of Art. After a year at Banbury, he transferred to The London College of Printing, where he majored in commercial photography, graduating in 1976. In 1977 he was drawn to the vibrant art scene in San Francisco and has lived there ever since. Along with Japan, photographer Michael Kenna has published more than 20 books of his photography. He has also received a number of notable honors for his work, including the esteemed award of Chevalier of the Order of Arts and Letters from the French Ministry of Culture. His monographs and books that have used his photos as illustrations include The Hound of the Baskervilles by Sir Arthur Conan Doyle (1985), Michael Kenna 1976-1986 (1987), Night Walk (1988), Le Desert de Retz (1990), Michael Kenna (1990), The Elkhorn Slough and Moss Landing (1991), Michael Kenna: Twenty Year Retrospective (1994), The Rouge (1995), Robert Louis Stevenson's The Silverado Squatters (1996), Le Notre's Gardens (1997) and Monique's Kindergarten (1997). Michael Kenna's photography has been shown in exhibitions across the globe, and is featured in permanent collections such as The Bibliotheque Nationale in Paris, Prague's The Museum of Decorative Arts, The San Francisco Museum of Modern Art and the Victoria and Albert Museum in London. Additionally, Michael Kenna has worked with a number of established brands such as Volvo, Rolls Royce, Audi, Sprint, Dom Perignon and The Spanish Tourist Board. Jackson Fine Art showed five of his pieces in Spring 2013, including the eerie black-and-white landscape Chateau Lafite, Study 1 (Bordeaux, 2012).