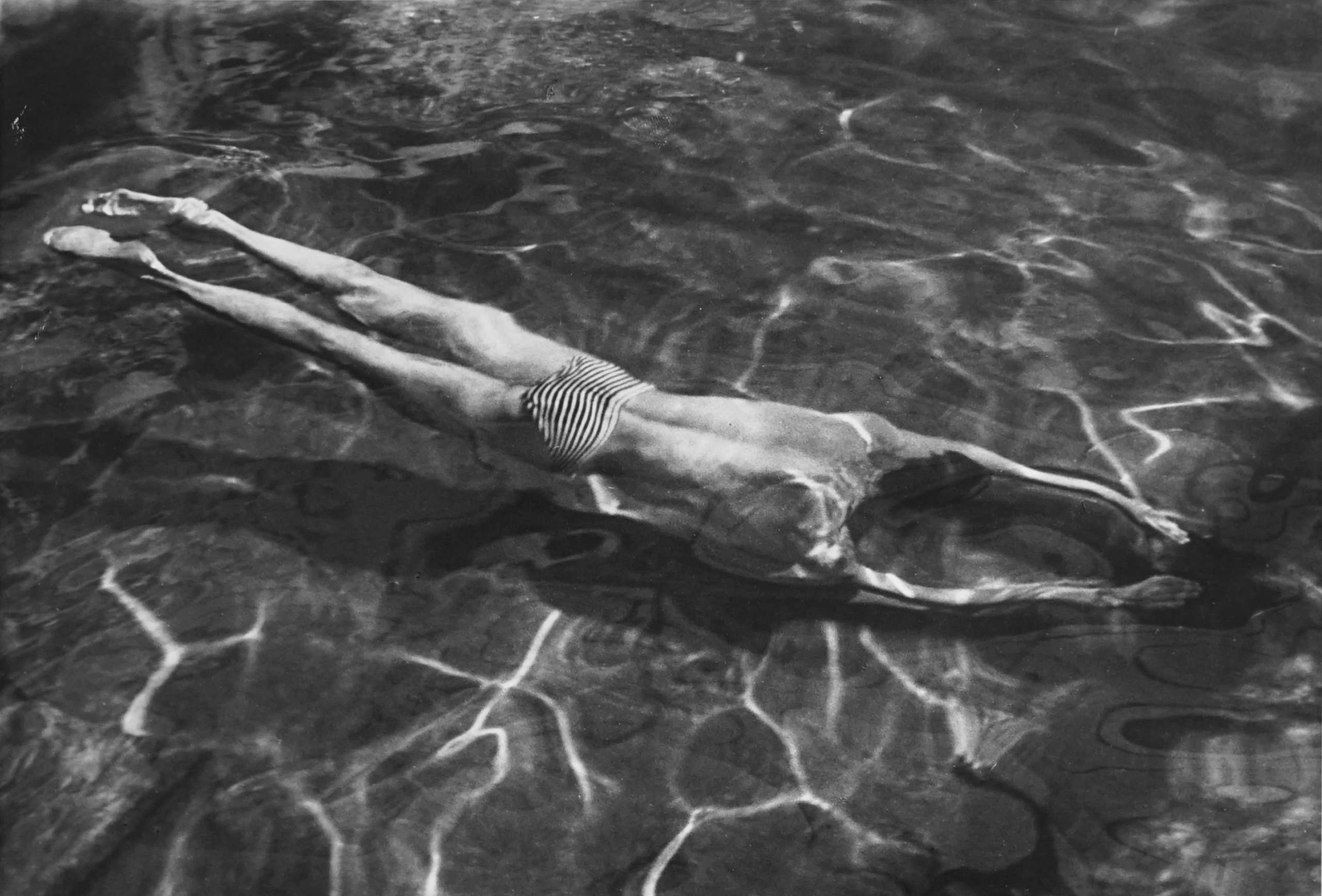 André Kertész
Underwater Swimmer, Esztergom (Hungary) p. 41. Aug 31
,
1917
Silver gelatin print
Image: 6 11/16 x 9 11/16 inches
Paper: 8 x 10 inches
Orminda shell stamp verso; Accompanied by a signed letter of provenance
André Kertész
André Kertész Biography André Kertész (1894-1985) was born in Budapest, Hungary. He started to develop his passion and eye for photography at a young age. He was professionally trained in the financial world and as a beekeeper, but at age 31, after 13 years dabbling in amateur photography in Hungary, André Kertész moved to Paris to fulfil his dream of pursuing a career as a photographer. Not knowing many people or the language he struggled at first both professionally and personally. He soon began to befriend and take inspiration from the bohemian community of international artists that he met in the cafés in the Paris neighborhood of Montparnasse. He spent time with and photographed artists of various mediums such as Lajos Tihanyi, Joseph Csaky, Brassaï, Paul Arma, Etienne Beöthy, Fernand Léger, Piet Mondian, Magda Forstner, Alexander Calder, and Maurice de Vlaminck to name a few. His first years in Paris were a time of freedom and experimentation. He absorbed lessons from his community of friends and developed a modernist sensibility not akin to many photographers at the time. During this early fertile time, he produced some of his most notable images such as Satiric Dancer, 1926; Fork, 1928; and Chez Mondrian 1926. Photography became a visual diary for Kertész, a record of daily life. He took his camera with him throughout the city photographing the city and the people. And after a few years he began to receive portrait commissions as well as commercial assignments working for the French journals Vu, Voila and others. He soon gained commercial along with professional success as a fine art photographer. Kertész was included in several photography exhibitions with critical acclaim and published three books between 1933 and 1936, just before relocating to New York where he'd go on to freelance for legacy publications like Vogue, Harper's Bazaar, Life, House & Garden and others. In 1948, Conde Nast's Alexander Liberman hired him on an exclusive contract for the company's entire roster of publications. After 25 years of creating beautiful and technically proficient, but passionless layouts for magazines, he retired from commercial work in 1962 at age of 68. Kertész was finally free to focus on the more personal subject matter and style that had delighted him as an amateur and which had brought him to acclaim in Europe. Although he had a one-person exhibition in 1947 at the Chicago Art Institute, despite widespread popularity throughout Europe, André Kertész was somewhat bitter about what he felt was a cool reception in the United States. In 1964 the then-newly appointed Museum of Modern Art, Department of Photography head, John Szarkowski, recognized the significance of the work and offered him a solo show of 40 prints. He also began to have a growing number of books published on his work. He was involved in the creation of the International Center of Photography and received accolades and awards while watching his reputation grow along with increasing sales to both individual collectors and museums, just as the fine art market for photography finally began to take hold. In the years since his passing in 1985, Kertész's stature in the art world has only increased and he is considered one of the most important pioneering masters of twentieth century photography. His work is exhibited by galleries internationally and is in the permanent collections of private and public collections worldwide.