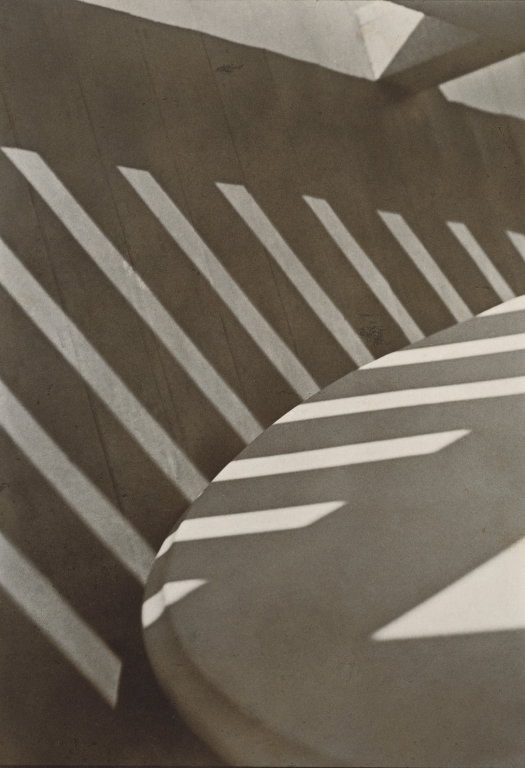 Paul Strand

Abstraction, Porch Shadows, Connecticut

,

1916
Photogravure on Japanese tissue.
Image: 9 5/8 x 6 5/8 inches
Paper: 11 7/8 x 8 1/4 inches
Camera Work Vol. XLIX (49). Vintage
This piece was published in the very last issue of Camera work #49 or Vol. XLIX in 1917. It is vintage Read on to see why this work and the...
This piece was published in the very last issue of Camera work #49 or Vol. XLIX in 1917. It is vintage

Read on to see why this work and the new photographic style was important to the development and history of photography as an art form

Paul Strand spent the summer of 1916 at his family's cottage in Twin Lakes, Connecticut, attempting to give his understanding of Cubist art—abstraction through fragmentation, multiple points of view, and a reduction of people and objects to basic geometry—a photographic form. His goal throughout this period according to Calvin Tompkins was to learn "how to build a picture, what a picture consists of, how shapes are related to each other, how spaces are filled, how the whole thing must have a kind of unity"Strand made several radical choices in this work: he abandoned the traditional, upright perspective of the photograph; caused the table to appear tipped, as if to suspend its utilitarian function; deployed shadows to create powerful compositional diagonals; and suggested objectivity in the crispness of his negative and print. When Porch Shadows appeared in the final issue of Camera Work, it was a clear signal of a new aesthetic. As Strand wrote, true modernists should avoid all "tricks of process or manipulation" to celebrate photography's inherent qualities as art.

Stieglitz introduced the work of a young photographer, Paul Strand in Camerawork issue 48. Paul's photographic vision was indicative of the aesthetic changes now at the heart of Camera Work's demise. Strand shunned the soft focus and symbolic content of the Pictorialists and instead strived to create a new vision that found beauty in the clear lines and forms of ordinary objects. By publishing Strand's work Stieglitz was hastening the end of the aesthetic vision he had championed for so long.

June 1917, the final issue of Camera Work (#49) appeared. It was devoted almost entirely to Strand's photographs. Even after the difficulties of publishing the last two issues Stieglitz did not indicate he was ready to give up; he included an announcement that the next issue would feature O'Keefe's work. Soon after publishing this issue, however, Stieglitz realized that he could no longer afford to publish Camera Work or to run "291" due to the effect of the war and the changes in the New York arts scene. He ended both of these efforts with no formal announcement or notice.When he closed "291" Stieglitz had several thousand unsold copies of Camera Work, along with more than 8,000 unsold copies of 291. He sold most of these in bulk to a ragpicker, and he gave away or destroyed the rest. Almost all of the copies that remain today came from the collections of the original subscribers.