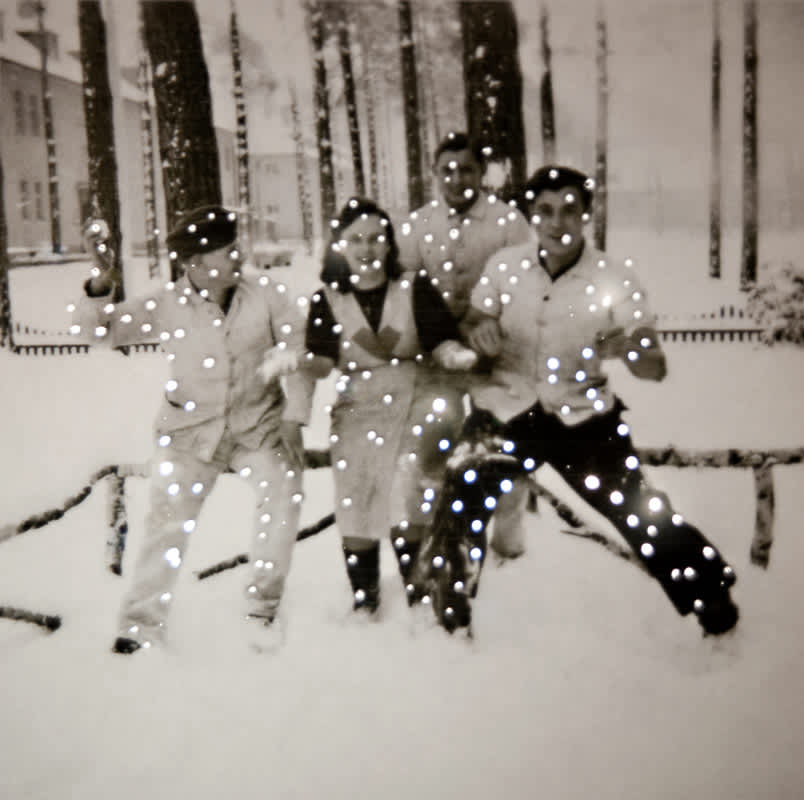 Amy Friend
January 30
,
1953
9 x 9 inch archival pigment print
Edition of 10
Signed, titled, and editioned in pencil verso
Amy Friend
Amy Friend Biography Over the past decade, Canadian artist Amy Friend has garnered international praise for her photographic work that explores the intertwined relationship of the past and present. In her series, Dare alle Luce, an Italian term meaning "to bring to the light", Friend collects, handalters and re-captures vintage photographs to bring them new meaning and life. The process involves Friend projecting light through found photos that she manipulates with punctures and cuts to give them an ethereal glow. This process returns the images to the light that originally created them, while also creating brand new works that oscillate between that which is present and absent, old and new. She is currently working on a project that bridges and blends personal archives related to migration with broader perspectives on the experience. Raised in Canada on the outskirts of Windsor, Ontario, Friend studied at the Ontario College of Art and Design in Toronto. She received a BFA Honours degree and BEd degree from York University, Toronto as well as an MFA from the University of Windsor. Currently she is an assistant professor in the Department of Visual Arts at Brock University, Niagara, Canada. Friend's work has been featured in publications including California Sunday Magazine, GUP Magazine (Amsterdam), LUX (Poland), Lens Magazine (China) and The Walrus (Canada). In 2011, Friend received a residency at the Banff Centre for the Arts. In 2017, Friend published the monograph Stardust (L'Artiere Publishing). In 2019 her work was selected for the prestigious Taylor Wessing Portrait Prize Competition at the National Portrait Gallery in London. Friend's work has been exhibited internationally with solo shows at Peak Gallery (Toronto), The University of Notre Dame, The University of Tennessee, 555 Gallery (Boston), and Galerie Rivière Faiveley (Paris), among others. In addition, she has exhibited works in numerous group shows and at international fairs including Paris Photo (France), Gexto Photofestival (Spain), and Vintage Photo Festival (Poland). Her work is held in the collections of the Onassis Center (Athens, Greece), York University (Toronto, ON), W Hotels (USA), the Edgewater Hotel (Wisconsin) and the Candela Collection.