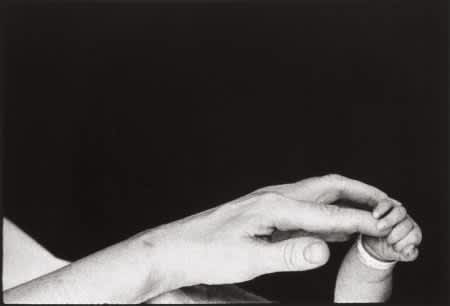 Eve Arnold
First Five Minutes of a Baby's Life, New York
,
1959
Silver gelatin print
11 x 14 inches
Signed in ink recto; titled and dated in pencil verso
Eve Arnold Biography
Photojournalist Eve Arnold (b. 1912 - d. 2012) documented defining social movements of the 20th century. She famously captured candid photographs of Hollywood celebrities such as Joan Crawford, Elizabeth Taylor, and Marilyn Monroe. This work deviated from a history of celebrities captured strictly in orchestrated poses, inviting the common public into the private sphere of society's elite members. Her first endeavor into activist work documented Malcolm X's Black Power Movement, where she focused specifically on the movement's Muslim women. Her 1972 film Behind the Veil interrogates the ways in which Muslim women's intersecting identities affects their statuses in all spheres of life. She continued grappling with both sex and gender stratification for the rest of her career.
Her parents Russian immigrants, Arnold was born in Philadelphia, PA. In 1948, she attended the New School for Social Research in New York and studied under Alexey Brodovitch photographing Harlem fashion shows. Arnold began freelance work for Magnum Photos in 1951 and was granted a full-time membership in 1957. In 1961, her dedication to her son's education led Arnold to settle down in London, where she wrote articles analyzing the reach of personal column advertisements. She continued travelling around the globe, using photography as a mode through which to explore social issues ranging from Chinese factory workers to Cuban prostitutes and Soviet political prisoners.
Eve Arnold earned a plethora of honors and awards during her lifetime. In 1980, she received the National Book Award for In China and the Lifetime Achievement Award from the American Society of Magazine Photographers. In 1995, New York's International Center of Photography elected her Master Photographer––the most esteemed photographic honor in the world. She received the 1996 Kraszna-Krausz Book Award for In Retrospect. The following year she was awarded honorary degrees by the University of St. Andrews, Staffordshire University, and the American International University in London. She was furthermore appointed to the advisory committee of the National Museum of Photography, Film & Television in Bradford, UK.