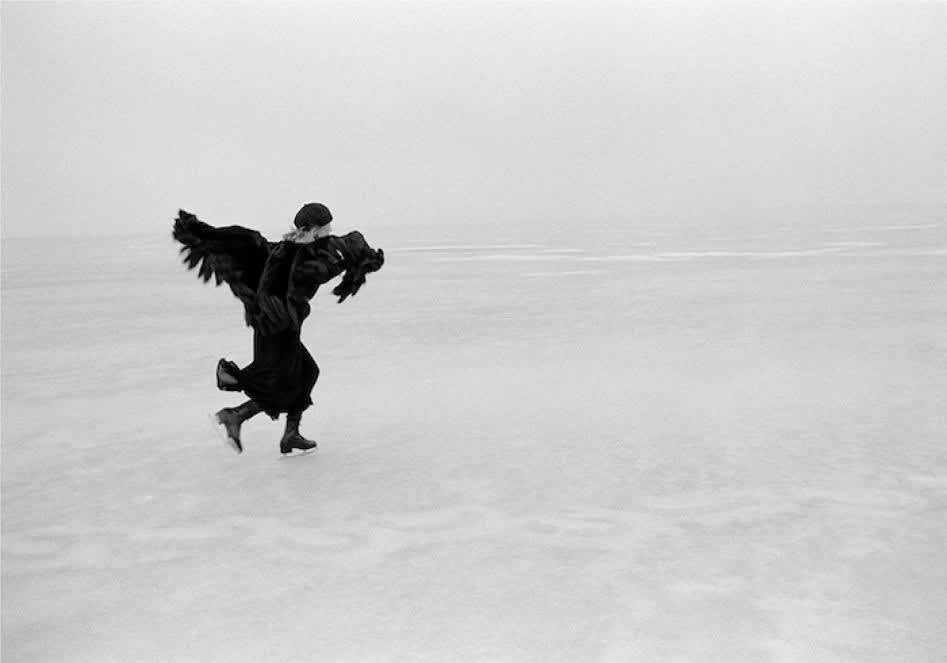 Joel Bernstein
Joni Mitchell Skating on Lake Mendota, Madison, WI
,
1976
11 x 14 inch silver gelatin print

16 x 20 inch silver gelatin print
Edition of 75

20 x 24 inch silver gelatin print
Edition of 50

30 x 40 inch silver gelatin print
Edition of 25
Signed, dated and editioned in ink recto; Signed, titled, dated and editioned in pencil on artist stamp verso
Joel Bernstein Biography
For over three decades, Joel Bernstein has photographed rock & roll's biggest names during their most iconic moments. A self-taught photographer and printer, Bernstein began his career at age 16, documenting the early days of Joni Mitchell's rise to fame. In the decades that followed, he became a trusted photographer to some of the biggest names in music, allowing him unprecedented access to rock & roll royalty. His candid photographs of Neil Young, Bob Dylan, Bruce Springsteen, Tom Petty, Prince and many others helped encapsulate and define a prolific era of American music and culture.
In addition to his tour and studio photography, Bernstein's many album covers are commonly cited among the most influential in rock's visual history. His first, at age 18, was Neil Young's After the Gold Rush, often featured on Best Album Covers Of All Time lists. This visual legacy would go on to serve as inspiration for the look of Cameron Crowe's film Almost Famous, in which many scenes were precise re-creations of Bernstein's photographs.
Bernstein's work is well known within the world of music, and is included in the permanent collection of the Rock & Roll Hall of Fame and Museum. He has been published in a wide spectrum of books on music, musicians, and the music business, as well as in Time, The New York Times and Rolling Stone. He was profiled in MOJO, the esteemed British music publication, which extensively featured his photos of Neil Young.
In 2015, Bruce Springsteen chose 75 of Bernstein's images to be included in the book, package and video documentary featured in the Columbia Records/Sony Music box set The River Collection–The Ties That Bind, the highly acclaimed expanded edition of his 1981 2-LP album The River, released in December 2015. Many of these images are viewable here.

Joel has lived in California since 1970, and currently lives in Oakland.