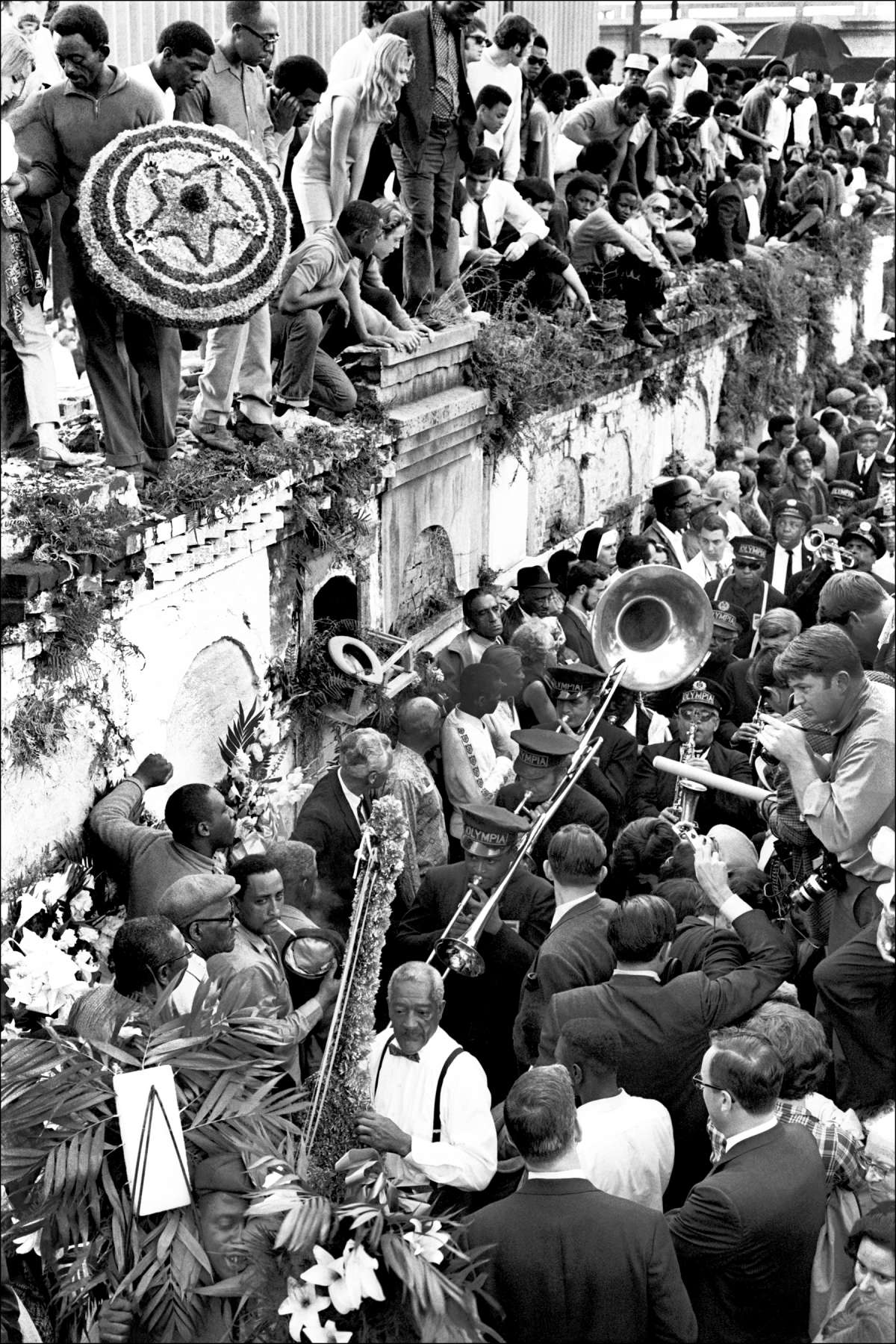 Leo Touchet
Jazz Funeral, New Orleans, Louisiana, No. 6
,
1969
14 x 11 inch silver gelatin print

20 x 16 inch silver gelatin print
Signed and dated with annotations in ink verso
Leo Touchet
Leo Touchet Biography Throughout his 50-plus year career, photographer Leo Touchet's work has captured the essence of people and cultures all across the world. In July 1965, inspired by the work of Henri Cartier-Bresson on view at MoMA, Touchet purchased a Leica M2 and began photographing the streets of New York. Soon after, his work drew the eye of a LIFE Magazine photo editor. That chance encounter led him on assignment for UNICEF to war-torn Vietnam, the first stop on a career that led Touchet through fifty countries across the world. Born in Abbeville, Louisiana, in 1939, Touchet's fascination with photography began after pouring through photos an uncle had taken while deployed during World War II. In college, Touchet studied architecture where he was introduced to the principles of composition, form, light, and perspective. This architectural training deeply informed his later photographic work. Upon meeting Henri Cartier-Bresson in 1972, the man whose work inspired Touchet's career suggested he return home and photograph the people and culture. Touchet took the advice and turned his lens upon his birth state of Louisiana, a sample of which was beautifully collected in the monograph Rejoice When You Die - The New Orleans Jazz Funerals. In total, six monographs of Touchet's work have been published. Additionally, his work has been featured in numerous publications including Time, LIFE, National Geographic, and The New York Times. Numerous museums and private collections hold Touchet's work, including the New Orleans Museum of Art, the Museum of Fine Arts Houston, France's Bibliotheque Nationale, the Everson Museum of Art, Hofstra University Museum, the Sir Elton John Photography Collection, Chase Manhattan Collection, and the United States National Park Service. Touchet's work has been exhibited internationally numerous times notably including solo exhibitions at the Acadiana Center for the Arts, Bibliotheque Nationale, the Miami Art Center and the Mint Museum.