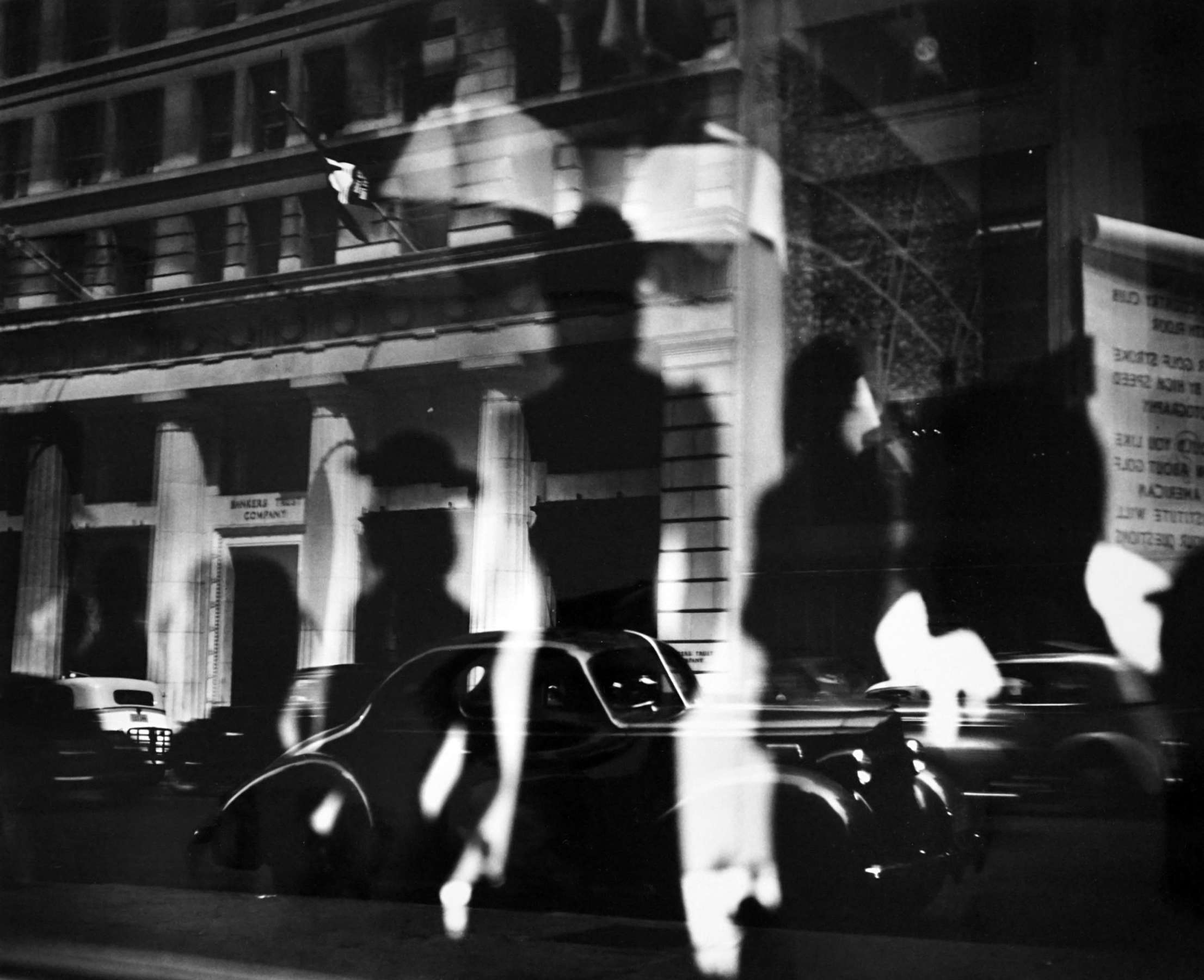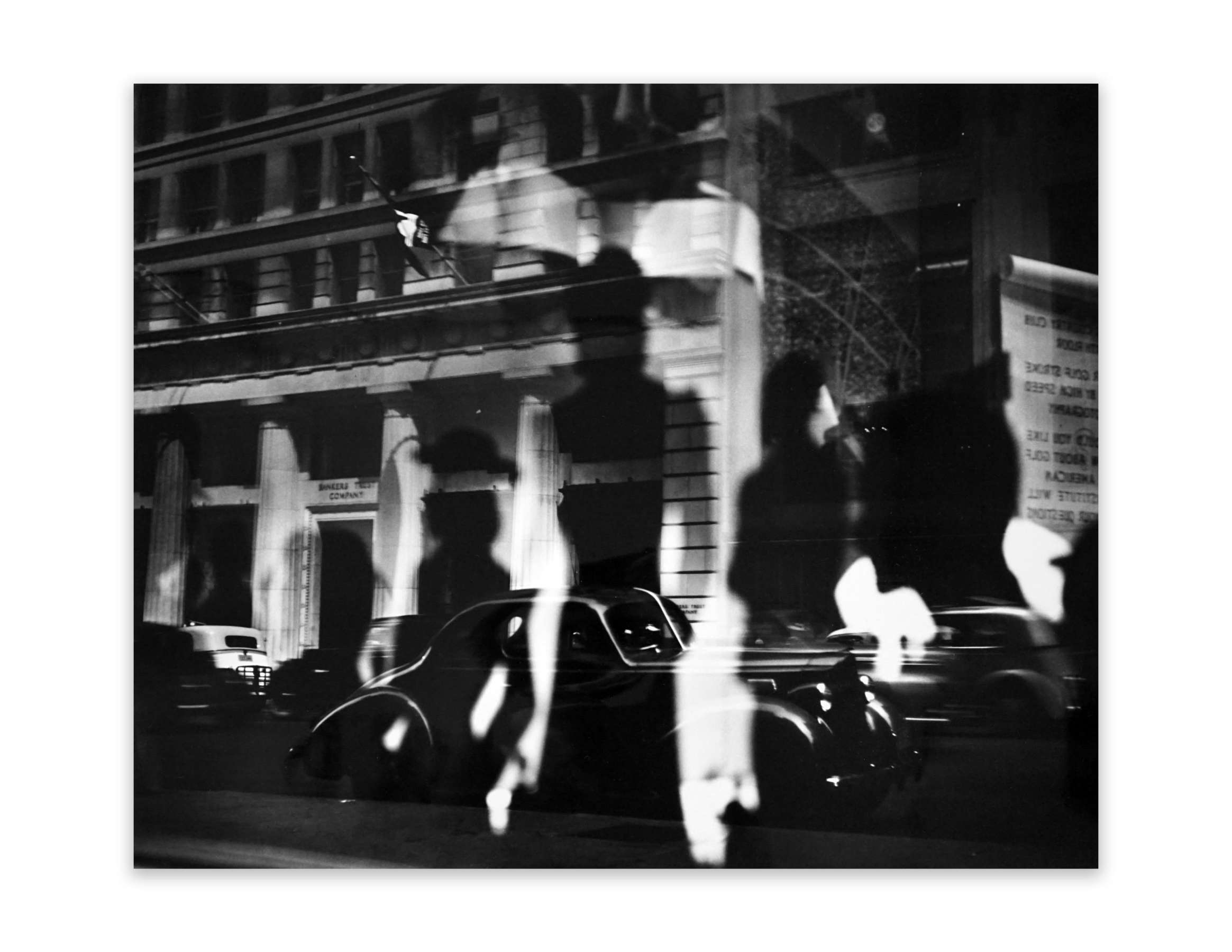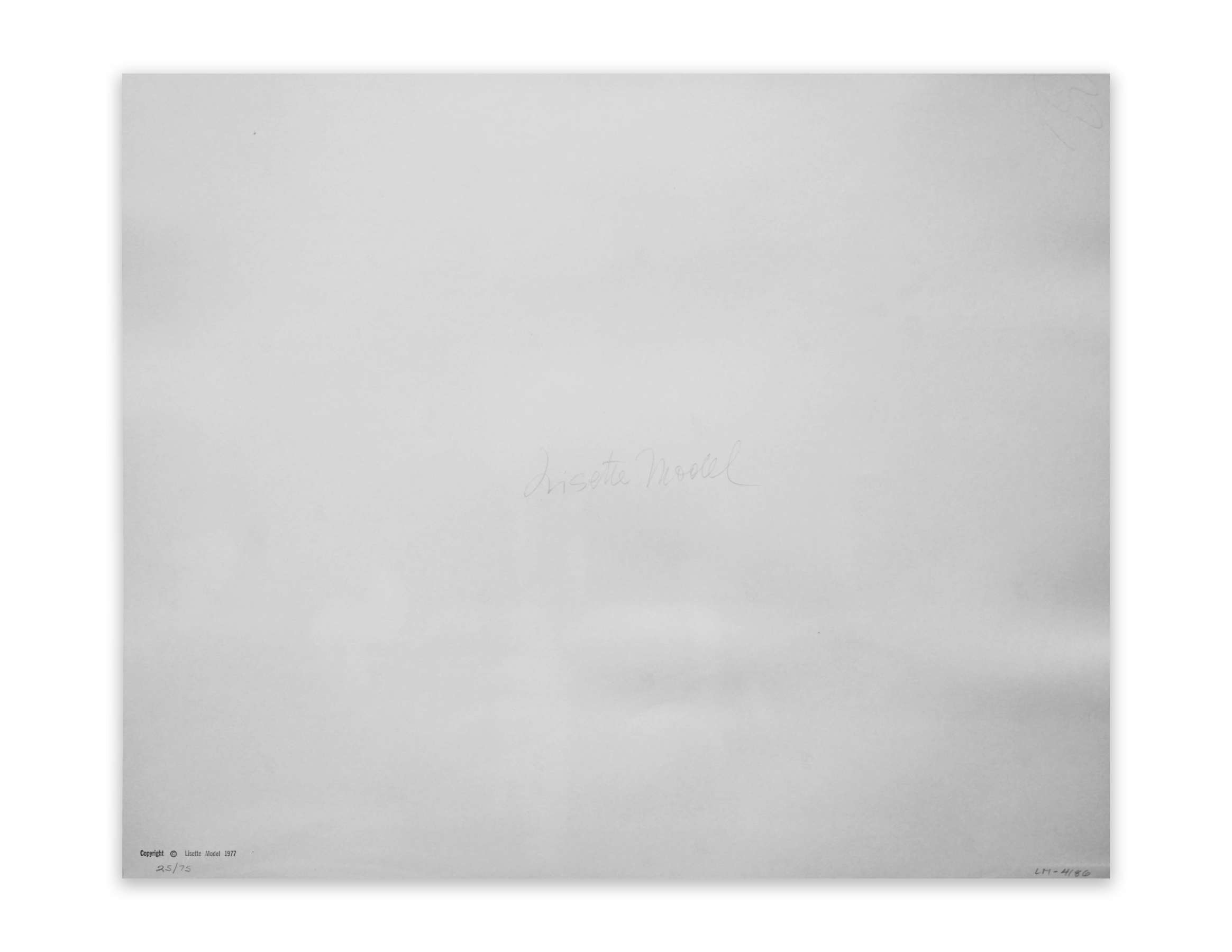 Lisette Model
Window Reflections, Fifth Avenue, NYC
,
1940
Ferrotyped silver gelatin print. Printed 1977
Image: 15 3/4 x 19 1/2 inches
Edition 25 of 75
Signed, and editioned with annotations in pencil, and artist's stamp verso
Inquire
%3Cdiv%20class%3D%22artist%22%3E%3Cstrong%3ELisette%20Model%3C/strong%3E%3C/div%3E%0A%3Cdiv%20class%3D%22title%22%3E%3Cem%3EWindow%20Reflections%2C%20Fifth%20Avenue%2C%20NYC%3C/em%3E%2C%201940%3C/div%3E%0A%3Cdiv%20class%3D%22signed_and_dated%22%3ESigned%2C%20and%20editioned%20with%20annotations%20in%20pencil%2C%20and%20artist%27s%20stamp%20verso%3C/div%3E%0A%3Cdiv%20class%3D%22medium%22%3EFerrotyped%20silver%20gelatin%20print.%20Printed%201977%3C/div%3E%0A%3Cdiv%20class%3D%22dimensions%22%3EImage%3A%2015%203/4%20x%2019%201/2%20inches%3C/div%3E%0A%3Cdiv%20class%3D%22edition_details%22%3EEdition%2025%20of%2075%3C/div%3E
Lisette Model Biography
Austrian-born American photographer Lisette Model is best known for her consistent series of city life photographs made with a 35-millimeter camera. Her work is notable for its emphasis on the peculiarities of ordinary people in everyday situations. As one of the most influential street photographers of the 1940s, Lisette Model's photographs redefined the concept of documentary photography in America.
Though Model found success in photography, she initially began her creative life as a musical student in Vienna, Austria. There, she studied piano and compositional theory with Arnold Schönberg before leaving Austria and moving to Paris. In 1933, Model discontinued her career in music and discovered photography through her sister, Olga. While she never formally studied photography, her sister taught her the rudiments of film development and the basics of. This newfound experience ignited Model's interest, leading her to become a full-time photographer soon after. During her time in Paris, Model produced a series of photographs, Promenade des Anglais, which capture men and women lounging in deck chairs along the Promenade des Anglais in South France. These photos, appearing in the French Journal Regards and later in the New York newspaper PM, established Model as a master photographer. In 1937, Model and her husband immigrated to New York City where she was met with quick success as a commercial photographer for Harper's Bazaar magazine and as an artist with her work being exhibited at the Museum of Modern Art.
Lisette Model's photography has been the subject of many significant exhibitions at the Photo League, the New Orleans Museum of Art, and the National Gallery of Canada. Along with her own photography career, she also taught at the New School for Social Research in New York with many notable students. The most well-known student was Diane Arbus.