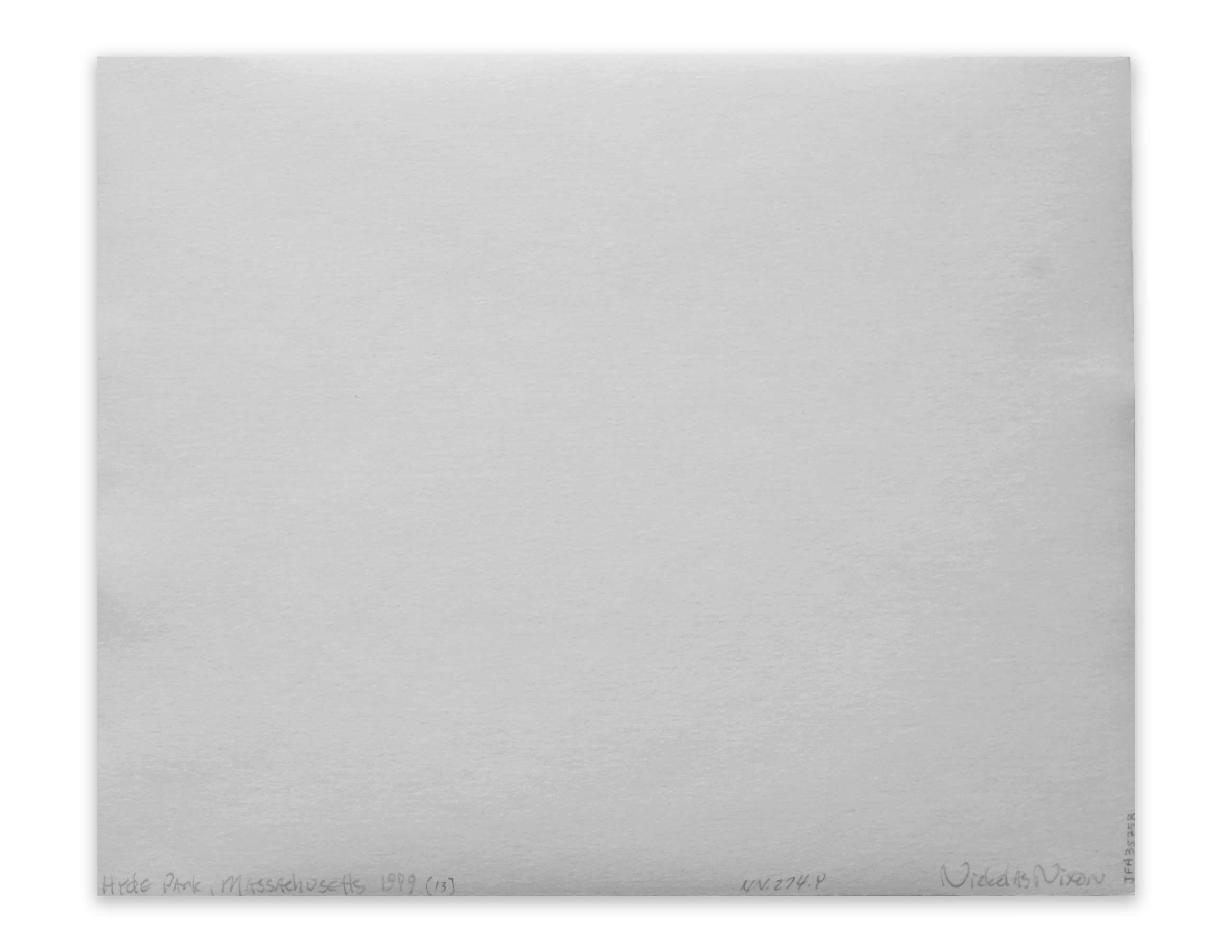 Nicholas Nixon
Hyde Park, Taunton Avenue, Massachusetts
,
1979
Silver gelatin print
8 x 10 inches
Image: 7 11/16 x 9 11/16 inches
Signed, titled, dated with annotations in pencil verso
Inquire
%3Cdiv%20class%3D%22artist%22%3E%3Cstrong%3ENicholas%20Nixon%3C/strong%3E%3C/div%3E%0A%3Cdiv%20class%3D%22title%22%3E%3Cem%3EHyde%20Park%2C%20Taunton%20Avenue%2C%20Massachusetts%3C/em%3E%2C%201979%3C/div%3E%0A%3Cdiv%20class%3D%22signed_and_dated%22%3ESigned%2C%20titled%2C%20dated%20with%20annotations%20in%20pencil%20verso%3C/div%3E%0A%3Cdiv%20class%3D%22medium%22%3ESilver%20gelatin%20print%3C/div%3E%0A%3Cdiv%20class%3D%22dimensions%22%3E8%20x%2010%20inches%3Cbr%20/%3E%0AImage%3A%207%2011/16%20x%209%2011/16%20inches%3C/div%3E
Nicholas Nixon Biography
Nicholas Nixon's photography and style aimed to capture the real moments of society, exploring portraiture and documentary photography using the 8x10 inch view camera. Born in 1947 in Detroit, Michigan, Nixon studied American literature at the University of Michigan, Ann Arbor, and received an MFA in photography at the University of Mexico. In 1974, Nixon began his work as an independent photographer and received multiple awards throughout his career; two John Simon Guggenheim Memorial Foundation Fellowships, three National Endowment for the Arts Photographer's Fellowships, and a Massachusetts Council for the Arts ``New Works" Grant.
Since the 1970s, Nixon has authored several series perceived for their compassion and captured emotion. Nixon's photographs consist of many subjects, including schoolchildren and institutions around Boston, people living along the Charles River near Boston and Cambridge, his family and himself, nursing homes residents, the ill and the dying people, and the intimacy of relationships.
Nixon's most known works include AIDS patients in their final months (People with Aids), nursing home residents (Old People), Boston's schoolchildren (School), and his most notable project with his wife and her three sisters, theBrown Sisters.
The Brown Sisters began in 1975, consisting of a portrait of his wife, Bebe, and her sisters each year, posing in the same order. The significance of this project, with a total of 31 photos, is that each year Nixon captured a piece of time through the view of an 8x10" camera.
The series has been exhibited at the St. Louis Art Museum, Harvard University's Fogg Art Museum, the Cincinnati Art Museum, the Modern Art Museum of Fort Worth, the National Gallery of Art, and the Institute of Contemporary Art, Boston.
In 2006, The Museum of Modern Art curated and presented the Brown Sisters, all the way from the beginning, acquiring Nicholas Nixon's original prints and as 20 x 24" enlargements, totaling 40 images - marking the first time the Museum has displayed these larger prints.