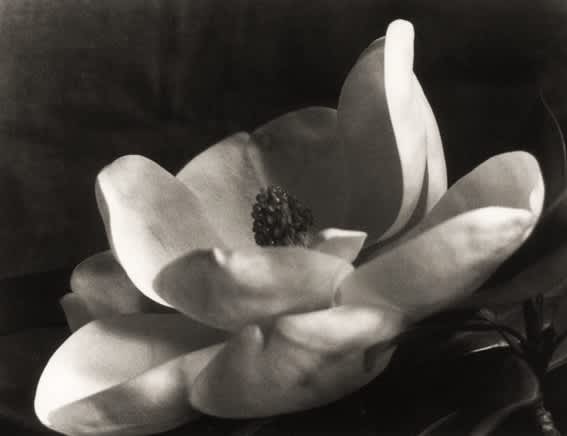 Imogen Cunningham
The First Magnolia
,
1925
Hand-coated platinum palladium print
Image: 6 1/2 x 8 1/4 inches
Mount: 8 x 10 inches
Mat embossed with signature
Imogen Cunningham Biography
Imogen Cunningham was an American photographer best known for her intimate portraits and her images of floral still life characterized by their evocative light and attention to detail. Cunningham was a member of the California-based Group f/64, known for its dedication to the sharp-focus rendition of simple subjects. "One must be able to gain an understanding at short notice and close range of the beauties of character, intellect, and spirit so as to be able to draw out the best qualities and make them show in the outer aspect of the sitter," she said of portrait photography.
Born on April 12, 1883 in Portland, OR, she moved to Seattle with her family at a young age. At the age of 18, Cunningham began to experiment with photography with a 4x5 inch view camera. While completing a degree in chemistry from the University of Washington, she was inspired to take up photography again and with the help of her chemistry professor she began to study the chemistry behind photography while paying for her tuition by photographing plants for the botany department. After graduating college in 1907, she went to work for Edward S. Curtis in his Seattle studio, gaining knowledge about the portrait business and practical photography.
In 1909 Cunningham was awarded the Pi Beta Phi Graduate Fellowship. This grant provided her with the funds to work and study at the Technische Hochschule in Dresden, where she assisted with the photographic chemistry department in finding cheaper solutions for the expensive and rare platinum used for printing. Once back in Seattle, Cunningham opened a studio and won acclaim for portraiture and pictorial work. She became a sought-after photographer and exhibited at the Brooklyn Institute of Arts and Sciences in 1913. The next year her portraits were shown at An International Exhibition of Pictorial Photography in New York. Wilson's Photographic Magazine also published a portfolio of her work.
As Cunningham moved away from pictorialism to embrace sharp-focus photography in the early 1920s she joined with like-minded photographers to form Group f/64 to promote this style of photography, and took part in their 1932 exhibition. It was at this time that she changed her style, creating close-up, sharply detailed studies of plant life and other natural forms.
Cunningham died in San Francisco, CA on June 23, 1976 at the age of 93. Today her works are held in the National Gallery of Art in Washington, D.C., Philadelphia Museum of Art, and Tokyo Metropolitan of Photography, among many more.