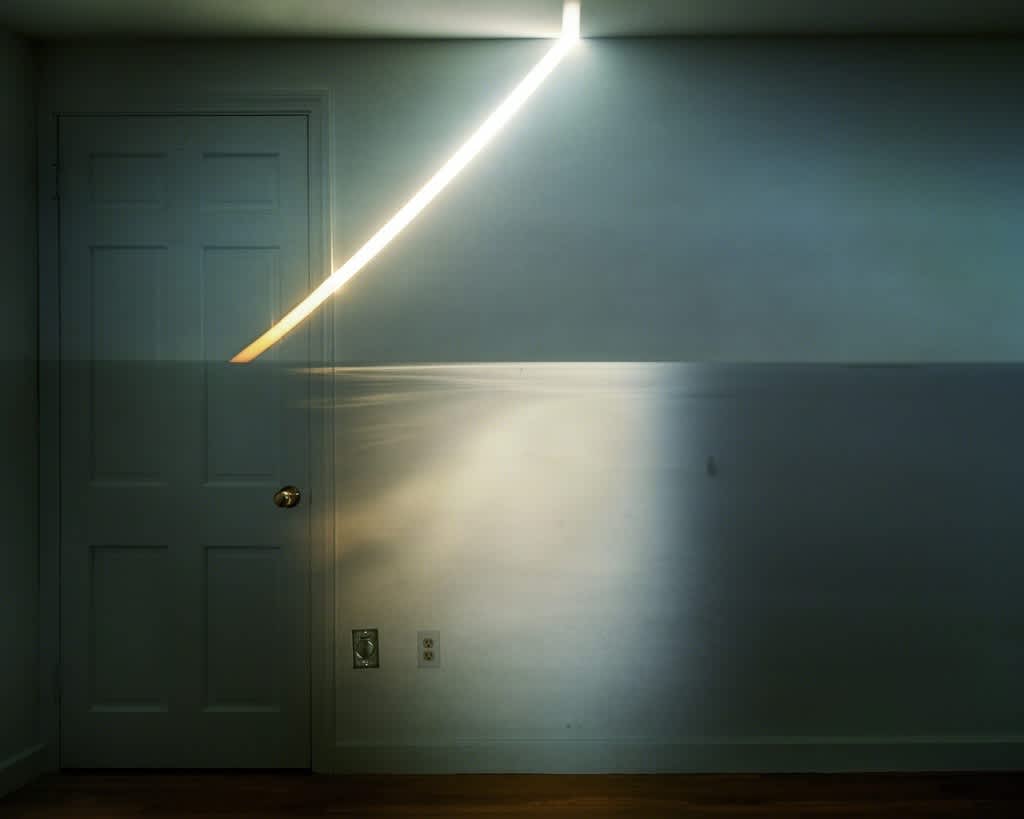 Abelardo Morell
Camera Obscura: 5:04 AM Sunrise Over the Atlantic Ocean. Rockport, Massachusetts, June 17th
,
2009
24 x 30 inch archival pigment print
Edition of 10

32 x 40 inch archival pigment print
Edition of 8

48 x 60 inch archival pigment print
Edition of 6
Signed, titled, dated and editioned on artist label verso
Abelardo Morell
Abelardo Morell Biography Cuban-born photographer Abelardo Morell surveys both the intimate and the majestic in his photographs of American people, objects, and landscapes. Initially, photographer Abelardo Morell worked in the traditions of Lee Friedlander and Garry Winogrand, photographing street scenes in New York. His interests later shifted to a more intimate scale, capturing black-and-white images of domestic objects. In 1991, Morell returned to the street, shooting scenes on a grander scale with a self-constructed camera obscura. The return to this centuries-old process allowed Morell to better understand the origins of his medium and capture in his artwork cities at a scale appropriate for comprehending them. In recent years, he has transformed his camera obscura into a mobile tent, moving it to locations throughout America to capture photographic landscapes on a monumental scale. Born in Havana in 1948, Abelardo Morell immigrated to the United States with his parents in 1962. Morell received his undergraduate degree from Bowdoin College and his MFA from The Yale University School of Art. He has received an honorary degree from Bowdoin College in 1997 and from Lesley University in 2014. Abelardo Morell's photography is featured in a variety of publications including a photographic illustration of Alice's Adventures in Wonderland (1998) by Dutton Children's Books; A Camera in a Room (1995) by Smithsonian Press; A Book of Books (2002) and Camera Obscura (2004) by Bulfinch Press; Abelardo Morell (2005), published by Phaidon Press; and The Universe Next Door (2013), published by The Art Institute of Chicago. His newest body of work, Flowers for Lisa, will be published by Abrams in the Fall of 2018. Abelardo Morell's artwork has received a number of awards and grants, which include a Guggenheim fellowship in 1994 and an Infinity Award in Art from ICP in 2011. In November 2017, he received a Lucie Award for an achievement in fine art. Abelardo Morell's photography has been collected and shown in many galleries, institutions and museums, including the Museum of Modern Art, The Whitney Museum of American Art, the Metropolitan Art Museum in New York, The Art Institute of Chicago, The San Francisco Museum of Modern Art, The Houston Museum of Art, The Boston Museum of Fine Art, The Victoria & Albert Museum and over seventy other museums in the United States and abroad. A retrospective of Abelardo Morell's artwork organized jointly by the Art Institute of Chicago, The Getty in Los Angeles and The High Museum in Atlanta closed in May 2014 after a year of travel.