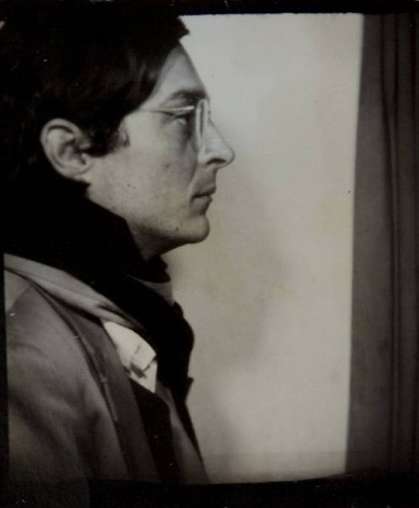 William Eggleston
Self-Portrait in Profile in a Photo Booth
,
ca. 1974
Silver gelatin print mounted to museum board
1 13/16 x 1 9/16 inches
VINTAGE
Rare photo booth self-portrait produced in the mid-1970s, as preparations were being made for the Guide exhibition. This self-portrait, taken in a photo booth, depicts the artist in profile, on the cusp of his imminent fame. The time frame of the photo booth self-portraits coincides with when Eggleston was filming his epic journalistic depiction of life in the Mississippi Delta during the early 1970s called Stranded in Canton. The individual frames feel like they could be stills from the movie We believe that the Self-Portrait in Profile in a Photo Booth, ca. 1974 was at one point on the same strip or at least taken at the same time as 2 that were included in the recent 2016 Eggleston Portraits exhibition at the National Portrait Gallery. In the Catalogue (William Eggleston Portriats) that was published by Yale University press in conjunction with the show it mentions that they were taken in a photo booth in Trader Dick's Bar. According to our research - and a NYT article from 1979, Trader Dick's was a bar in Memphis at 2012 Madison that offered rock and roll bands, soft rock, bluegrass, chamber jazz. I attached the article as a pdf.
Provenance
Both of these originally come from the collection of his long-time companion Lucia Burch. After that they were owned by Carole Thompson Fine Art of Santa Barbara and included in a collaborative exhibition with Edward Cella Art + Architecture. They were then owned by a private collection prior to Jackson Fine Art purchasing the collection

Exhibitions
An image that looks to be from the same strip was exhibited at The National Portrait Gallery in London in 2016. That print also appears in the book that came out with the show
https://www.theguardian.com/artanddesign/2016/mar/11/unseen-william-eggleston-portraits-to-appear-in-london-exhibition

Literature
Article on Photo Booth Portraits
https://hyperallergic.com/252712/an-artists-conceptual-photo-booth-compositions-from-the-1970s/
Publications
Additional Articles on Eggleston
https://www.telegraph.co.uk/photography/what-to-see/william-eggleston-the-stories-that-inspired-david-lynchs-favouri/
https://www.nytimes.com/2016/10/17/t-magazine/william-eggleston-photographer-interview-augusten-burroughs.html
https://www.npg.org.uk/whatson/eggleston/explore/curators-tour
https://www.npg.org.uk/whatson/eggleston/exhibition.php
Inquire