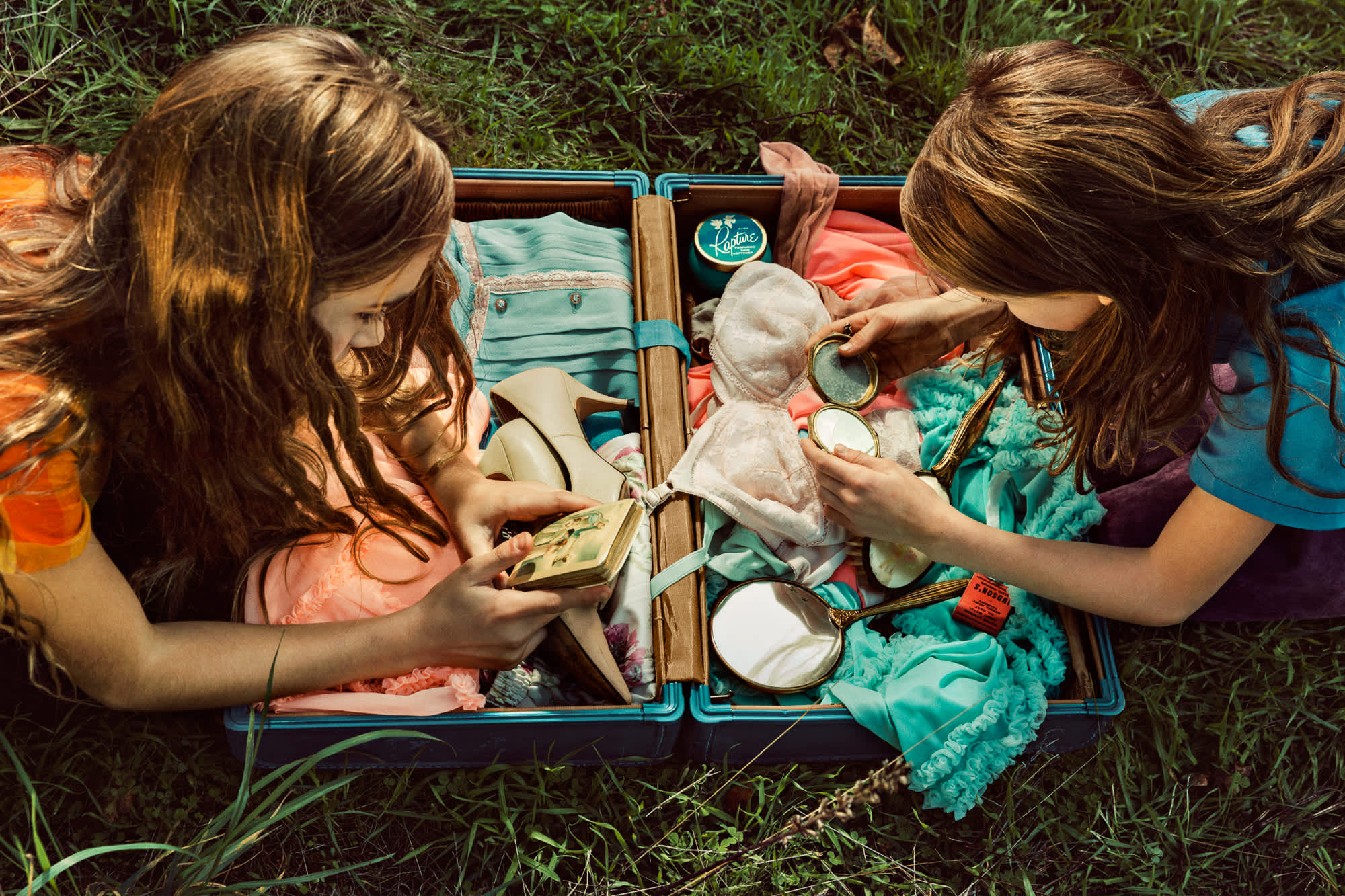 Holly Andres
First Blush: Elk Rock Island
,
2015
From the series 'The Fallen Fawn '
20 x 30 inch chromogenic dye coupler print
Edition of 12

28 x 42 inch chromogenic dye coupler print
Edition of 3
All sizes signed, titled, dated, a editioned on artist label verso
Holly Andres
Holly Andres Biography Holly Andres, a Portland-based photographer and director has made waves on the art scene for over a decade. Her portraiture is cinematic in feel and often depicts young girls in activities, haloed in childhood innocence and yet has a darker, more poignant meaning when looked at with a fixed eye. She uses photography to examine the complexities of childhood, the fleeting nature of memory, and female introspection. Holly named her inspiration as her two older sisters for her critically acclaimed The Fallen Fawn series. They once found a suitcase full of women's items and fashions by a riverside where they played as young girls. While the suitcase led to nights of mystery flavored dress-up, Holly said she came to wonder about this unseen woman and her fate. She has also said that she admired how a single still image could provide entire theatrical stories, which is evident in her work's complexities and operatic costuming. Holly takes editorial and commercial assignments. However, when she depicts animals in her work, it is apparent that she has a profound respect for their lives and contributions to the human economy. It is possible that this is due to her unique upbringing, as Holly and her nine siblings grew up on a farm in Montana. Holly Andres' photography can also be found on Instagram, another outlet for her creativity in this digital, plugged-in age, which often features her two Persian cats. On the platform, she has gained over eleven thousand followers who engage with her work, both personal and professional. No matter what the outlet is, whether an online social media platform or a print series in The New Yorker, she has an easily recognizable signature style. Actress Maya Rudolph and author Cheryl Strayed have both sought after her dark fairytale aesthetic. Holly has been featured in several exhibitions and media powerhouses such as TIME, Vanity Fair, and ESPN to name only a few. In Art Lt. she was profiled as one of 15 emerging West Coast artists under the age of 35. Holly Andres has also taught up-and-coming artists at both Portland State University and the Pacific Northwest College of Art. Holly has had solo exhibitions in New York, Los Angeles, San Francisco, Atlanta, Seattle, Istanbul, Turkey and her home base of Portland Oregon. In 2021, Holly Andres diversified again, showcasing her talent for elaborate scene creation when she directed the music video for M. Ward's "Violets for Your Furs." The song was written in 1941 and that aesthetic can be seen throughout the glitchy images that make up the shoot. Always dedicated to the perfect moment, Holly torched a couch, doused its remains in water, and hauled the thing home to make sure the setting for the video had the appropriate feel to match the nostalgic song. Her creative drive inspires many and her work will forever be remembered.