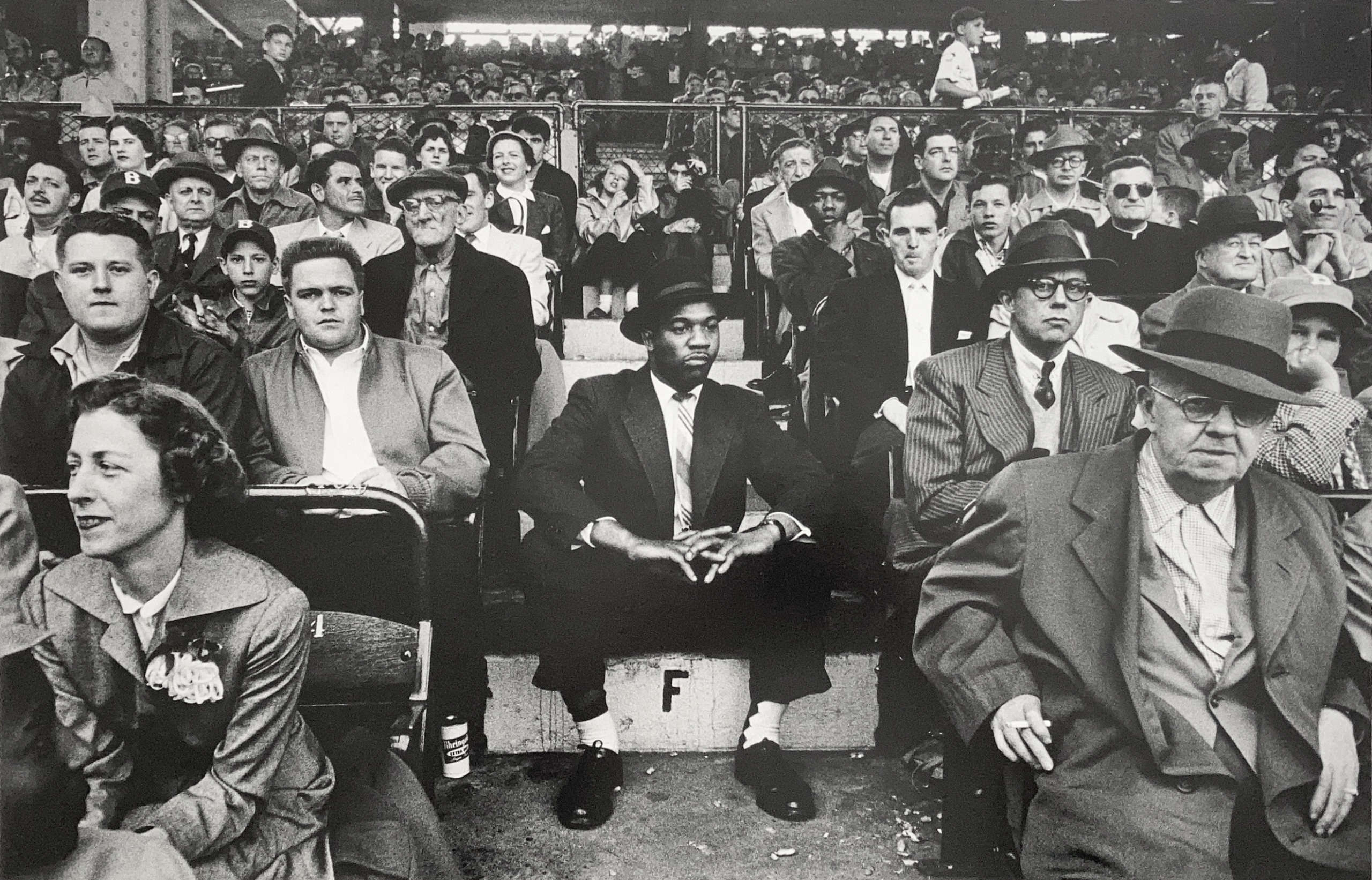 William Klein
F, Ebbets Field, New York
,
1955
Silver gelatin print
Image: 14 1/2 x 21 7/8 inches
Paper: 20 1/16 x 23 3/4 inches
Signed, titled, and dated with annotations in pencil verso
William Klein
William Klein Biography Born in New York City a year before the Depression started, French photographer and filmmaker William Klein's (1928 - present) first forays into art were through painting. Although he eventually switched gears towards the camera, he never formally studied photography, which explains his abstract approach. William Klein won his first camera during a poker game in 1946 while part of the U.S. Army stationed in Germany. He worked a brief stint as assistant to French painter and sculptor Fernand Léger's in Paris in 1948. William Klein's photography in fashion has appeared in magazines, books and documentary and feature films. William Klein currently works and lives in Paris. The artist is widely regarded as innovative in photo book design; his first book Life is Good and Good For You (1956) won the 1957 Prix Nadar. His work stretches an enormous gamut, including both high fashion photography as well as darker images, capturing sports such as boxing. When first in Paris, William Klein focused on abstract painting and sculpture while working with Cubist artist Léger. Architect Angelo Mangiarotti gave him an early career break with two exhibitions in Milan. Soon after, the two began to collaborate. William Klein's first commissioned work came when Mangiarotti ask him to transfer a painting on to a Milanese apartment's rotating room dividers. While shooting documentation of his work, William Klein felt inspired to return to photography. American Vogue art director Alexander Liberman saw William Klein's sculptures in Paris in 1954 and asked to meet with the photographer; Vogue went on to publish a number of his photo-essays, including images of Dutch barns. He eventually found a niche in fashion photography—shooting outside the studio and on the streets—for the publication. William Klein has published over a dozen books, with work appearing in Rome (Editions du Seuil, Feltrinelli, 1958-1959), Rome: The City and its People (Viking Press, 1960), Mr. Freedom (Eric Losfeld, 1970) and William Klein: Photographs (Aperture, 1981), among others. His films include Broadway by Light (1958), How to Kill a Cadillac (1959), Cassius the Great (1964-1965), Who are you Polly Maggo? (1965-1966), Far from Vietnam (1967), May Days (1968-1978), Mister Freedom (1967-1968), Eldridge Cleaver, the Black Panther (1970), The Big Café (1972), Muhammad Ali the Greatest (1969-1974), The Model Couple (1975-1976), Hollywood, California (1977), Music City, USA (1978), The Little Richard Story (1980), The French (1981), Slow Motion (1984), Mode in France (1985), Contacts (1986), Babilée (1991), In & Out of Fashion (1993) and Messiah (1997-1999). Photography William Klein has shown work all over the world, including the Guggenheim Museum, the Metropolitan Museum of Art, the Museum of Modern Art, the National Art Gallery of Art, the Whitney Museum of Art, the Art Institute of Chicago, Centre Georges Pompidou, House of Photography and more.